TR-Level-Vierteiler für den LB Adventskalender
01. Dezember 2006




Ein Wintermärchen
Teil 1 & 2

von/by BaGi & Sweet

A Winter-Fairy-Tale
Part 1 & 2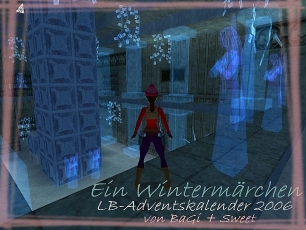 Böse 7 Zwerge haben Laras 7 Krönchen gestohlen.
Suche und finde sie!
...Fortsetzung folgt...



Evil 7 Dwarfs have stolen Laras 7 Crowns.
Search and find them!
...to be continued...

Viel Spaß und "Happy Raiding"
...Bitte Volumetric FX im Setup aktivieren
und die beigefügte Liesmich-Datei lesen...
Der Level wurde mit dem TREP-Patcher und dem Memory-Patch erstellt.
Mit der beigefügten .exe spielbar für MAC-User ohne Schnee und Nebel.

Have much fun and "Happy Raiding"
...activate "Volumetric FX" to see the fog
and read the enclosed Readme-File ...
Building this level I used the TREP-Patcher and the Memory-Patch.
With this .exe-file the level is playable by MacUser without Snow and Fog.